USU football players get championship rings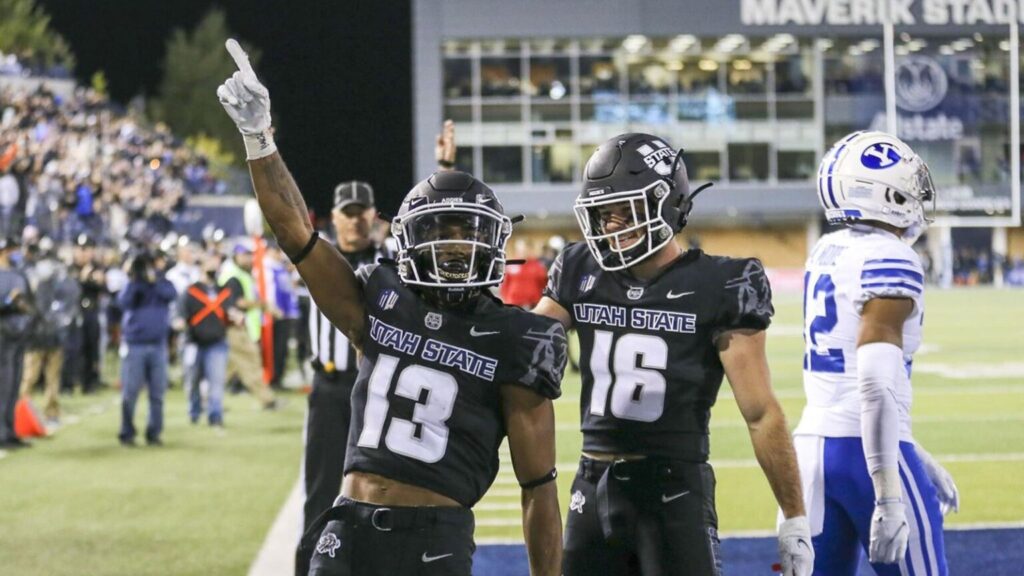 By Emma Shippen
Utah State University football players received rings last month at the Events Center in Logan for
winning the Mountain West Football Championship.

The players won the championship on December 4, 2021 at Dignity Health Sports Park in Carson,
California where they upset favored San Diego State 46-13. They defeated Oregon State 24-13 in the
Jimmy Kimmel LA Bowl at SoFi Stadium.

Although they received a 10-foot trophy the night of their victory over the Aztecs, the players have
awaited their prized possessions… the championship rings. They could have been mistaken for kids in a
candy shop.

Some social media posts by the players were mistaken as engagement videos. A closer look at the posts
showed that the players were wearing their championship rings on their ring fingers.

The rings are custom-designed with each player's last name on one side and the USU Aggie bull on the
other. The top of the ring is a large array of silver crystals and a big blue solid "U-State" in the middle.
The rings were made and supplied by Jonstens' company.

"I'm so happy they won the championship," said Hallie Hyde, a former USU cheerleader. "I can tell they
are all so excited to get their rings since almost all of them posted about it."

Utah State's last Mountain West Football championship was in 2013.

"I'm happy they got their rings," said Adri Anderson, a social media content creator for USU athletics.
"They worked so hard throughout the season, so I think they are happy to finally each get something to
show off that hard work. Also, they are pretty cool — not going to lie."

The Aggies got back to work with their first spring ball practice last month. The players, coaches and fans are excited for what this upcoming year has in store.

An Instgram post by assistant coach Paul Jackson said, "The 2021 Aggies were a special team who put
together a truly legendary season. Had a blast celebrating it, all together, one more time tonight. Our
place in history is solidified, now let's run it back in 2022!!!"