Kiwi is USUE's valedictorian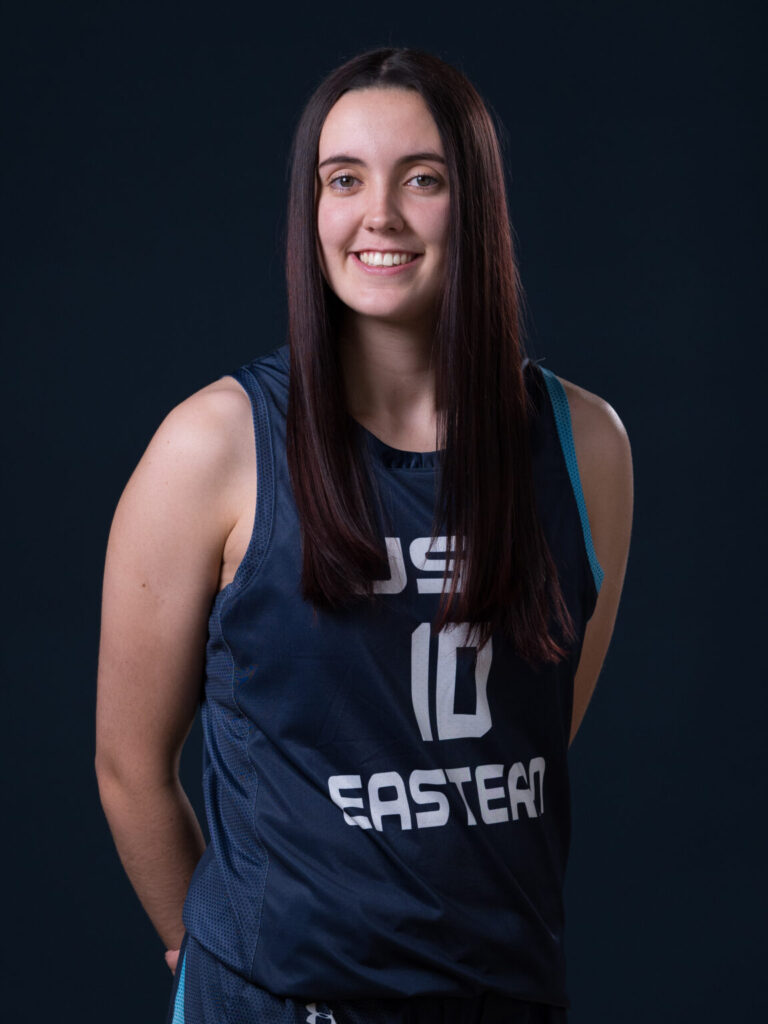 New Zealand native Ella Bradley is the 2022 Utah State University Eastern class
valedictorian and will speak at the commencement ceremony on April 30.
Bradley was a prominent player on Eastern's women's basketball team. She maintained a
schedule of practices, games, and working at the campus cafeteria, all while maintaining a 4.0
grade point average as a science student. She scored in the 98 th percentile across all colleges in
her ACS final exam in chemistry.
Bradley was born in London, England, and her family moved to Cambridge, New
Zealand when she was five. The move was from a city of nine million to a town on the North
Island with a population of 21,400, about the population of Carbon County. She was already
familiar with small-community natural beauty. Cambridge was a finalist in the 2017 and 2019
New Zealand's Most Beautiful Large Town awards.
Bradley's hobbies include netball, reading, going to the beach and horseback riding.
While attending St. Peter's Cambridge High School, she served as a well-being prefect and,
under the guidance of the well-being center, she made sure the students and staff at the school
were supported.
"I loved the facilities and the opportunities at my high school," she said. "I am still close
with my teachers, and when I visit New Zealand, I have coffee with them and visit with them."
St. Peter's is a private Anglican secondary school where Bradley was coached by Leanne
Walker, a two-time New Zealand Olympian and a former player on the Tall Ferns, New
Zealand's premier women's basketball team. Bradley's high school team won four national
championships in five years. She also played for elite travel teams and played in Australia, India,
Malaysia, Greece and Belarus.
"I was lucky enough to be on different age group New Zealand teams," she said. "It was
a really amazing opportunity and I got to meet so many different people from different cultures."
She said she came to Eastern primarily to play basketball. "I didn't get to visit the school,
but I talked to the coaches and they were such nice people. There were also three other Kiwis
coming to Eastern, so that aspect also helped make my decision to come here."
The three other New Zealanders are from different parts of the country and the four did
not know each other before attending Eastern.
After she arrived in the fall of 2020, Bradley found that she loved the small class sizes
and understanding professors. "They were great when I had to be away for games, or when I got
stuck with anything." Coming to Eastern took courage since she never visited the campus. "It
was a little bit scary at first, but it's definitely been worth it," she said.
Bradley's favorite class was human anatomy because she enjoyed the opportunity to
work with the cadavers. "Dr. (Tyson) Chappell was an awesome teacher. He was enthusiastic
about it, it makes you so much more interested in the class," she said.
Bradley also enjoyed chemistry with Dr. John Webber and biology with Dr. Wayne Hatch,
whose biology class was particularly fun for her because she participated in the Tiny Earth
Project, in which students discover antibiotics in local soil samples.
Bradley said that Eastern's women's basketball coaches Chelsey and Morgan Warburton
made a profound impact. "They were really supportive in all aspects, and especially in making
sure I succeed in my classes."
Bradley's favorite basketball memory was winning a home game against the College of
Southern Idaho in a surprising upset on February 2. CSI was ranked fifth in the nation, and the
Eagles' win knocked them down to 13 th . "That was an awesome game, kids from the local
schools came and the whole gym was full of people."
This fall, Bradley will choose between universities in Texas, Colorado, and Utah to earn
a bachelor's degree in chemistry, biology, or biochemistry. She plans to become a radiologist.
Bradley will get back on a horse when she visits her family in New Zealand. She will
finally visit her parents, Tania Smithe and Colin Bradley, and two sisters, for the first time this
summer since COVID-19 restrictions.