CEU's Cosmetology brings back the "Rat"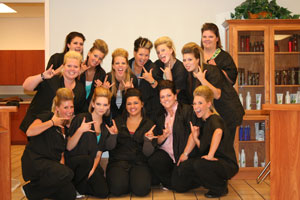 O ne can see it on the run ways in Milan, Paris and New York. It's the '60s look transformed into the new millanium. It requires a substantial amount of hair spray, longer hair and a ratting comb.
When this style was in vogue during the '60s, news reports surfaced about how spiders and varmits could live undetected in these styles. And those who lived in this era, grew tired of all the ratting and welcomed the '70's hippie look of long hair that was pressed with an iron to give the illusion of really straight hair. So how could it ever reappear 50 years later?
"We were looking through some fashion magazines and all the models had the extreme "ratted" hair of the '60s," said cosmetology instructor Debbie Prichard. We decided for one of first class projects to bring the runway look of Europe and N.Y. to the classroom at College of Eastern Utah.
The students spent one morning incorporating the look from the fashion runways onto to their fellow classmates. Some students really like the look why others could not wait to wash the "rats" out of their hair.
Cosmetology students are given assignments throughout the year to practice their creativity and create unique styles. This was the first of several assignments where they use their creativeness in hair styling.
CEU's cosmetology department is open weekdays and takes appointments from 9:30 a.m. to 3 p.m. fall semester and 9:30 a.m. to 5 p.m. spring semester. They provide all services available in salons including haircuts, permanents, weaves, colors, shampoos, manicures, pedicures, waxing, facial shaving, facials, scalp treatments and acrylic nails.