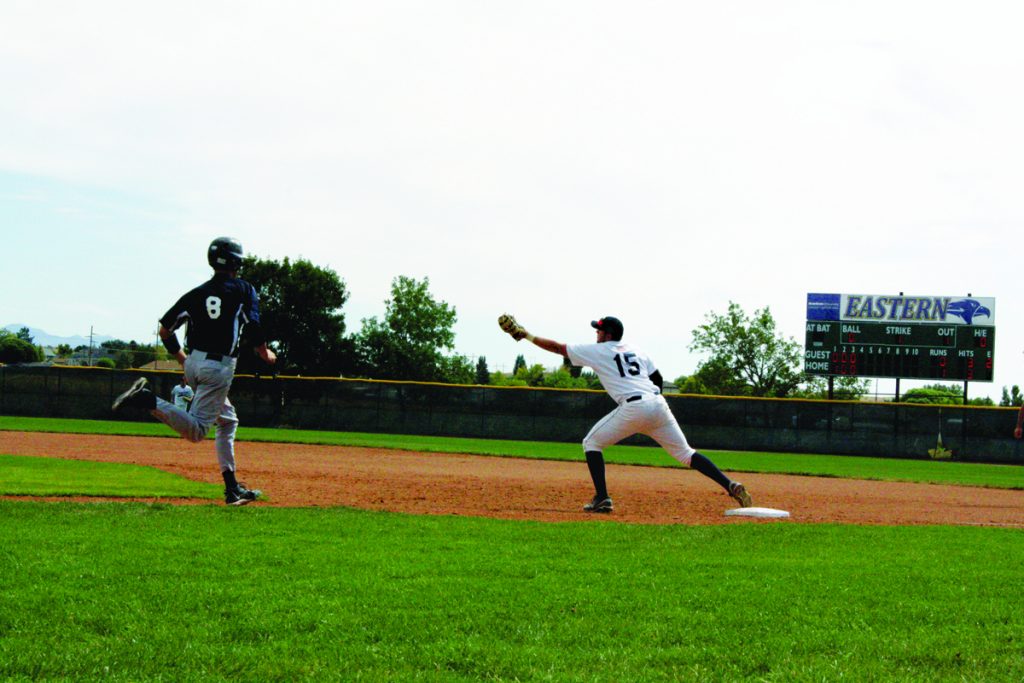 This archived article was written by: Mike Gingill
It may not be spring season, but baseball season is here. The USU Eastern Golden Eagle baseball team hit the field and looked like they were already in mid-season form. The Golden Eagles opened their season with a double-header against Utah Valley Club Baseball on Jan. 28.
In the first game pitcher, Joe Barta, threw a one-hitter and kept Wolverine hitters off balance with his repertoire of pitches. Barta struck out twelve in a shortened game to the mercy rule. On the offensive side, Eastern showed patience at the plate as they drew 15 walks. Redshirt freshman Denver Hansen had a huge day at the plate going, 3-3, while falling short of a homerun for the cycle. The game ended in favor of USU Eastern as they defeated Utah Valley 26-0.
In the second game, Mason Moore threw a no-hitter and struck out 10. This game was shortened as well because of the mercy rule. Moore worked quickly and effectively through his five innings of work. The Golden Eagle offense was paced by freshman Reggie Gates who was 3-3, with two doubles. Eastern won the second game 22-0.
The Golden Eagle defense was sound only committing one error as the offense was scoring in loads. Hansen became a target at the plate as he was plunked four times in the two games. Leadoff hitter Kyle King found himself on the base paths often, as he walked eight times. Every Golden Eagle hitter reached base at least one time in both games. Sophomore center fielder Alex Church commented, "We played at our level and kept our eyes on where we want to be."
The Golden Eagles first-road test comes this week as they travel to Las Vegas to battle out four games with teams from the Arizona Community College Athletic Conference (ACCAC).