Tough losses lead to BIG bounce back
The USU Eastern Golden Eagles are in the heart of their schedule in the Scenic West Athletic Conference and playing against the other teams in Region 18 have not made it easy on them. After getting beat by Snow College in Ephraim and a heartbreaking loss at Salt Lake Community College in Salt Lake City, the team got to come home and play on their home court.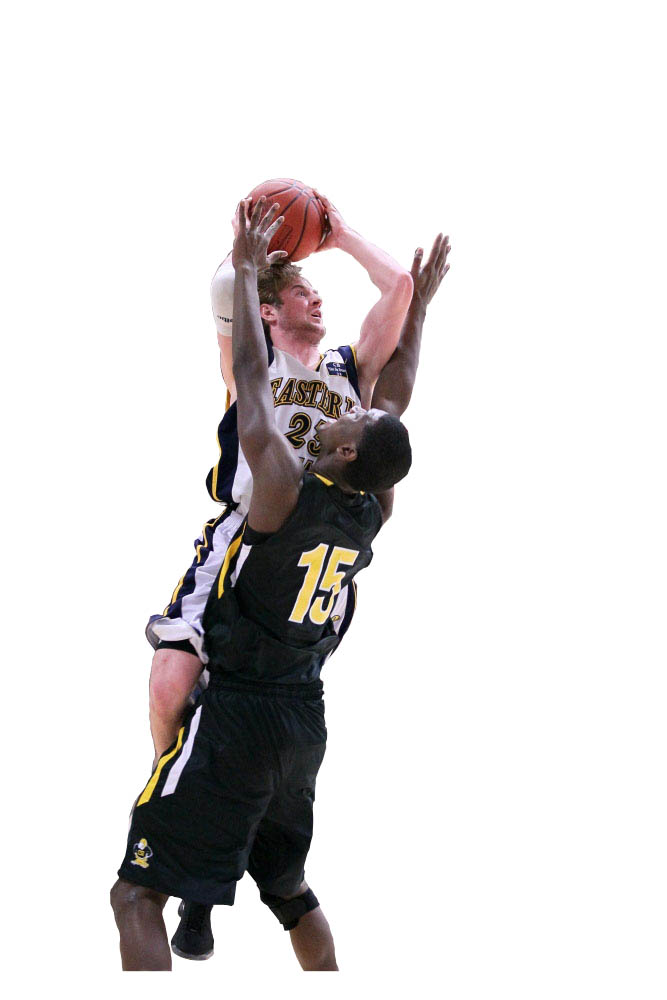 This archived article was written by: David Osborne Jr.
The USU Eastern Golden Eagles are in the heart of their schedule in the Scenic West Athletic Conference and playing against the other teams in Region 18 have not made it easy on them. After getting beat by Snow College in Ephraim and a heartbreaking loss at Salt Lake Community College in Salt Lake City, the team got to come home and play on their home court.
In the Bunnell-Dmitrich Athletic Center on Friday, Jan. 20, 2012, the Golden Eagles hosted the North Idaho College Cardinals traveling all the way from Coeur d'Alene, Idaho. The team came out strong early and but they were equally matched by the Cardinals.
At halftime, the team led NIC by one, 35-34. The Golden Eagles shot 44 percent from the field in the first half and 35 percent from behind the three-point line, but they shot only 66 percent from the free throw line, going a measly 6-9.
The second half the teams both came out strong again, but with more of a defensive mind set, as they held each other under 30 points. At the end of the regulation, the buzzer sounded and NIC and USU Eastern had knotted it up, forcing overtime. In overtime the Cardinals finished stronger and pulled out the win, 74-71.
Head coach Brian Edelstein said, "Nobody shot well. They [NIC] made more plays than us down the stretch, and we have to stop giving up soft and-1's."
Eric Hansen and Neveij Walters led the team with 12 points apiece. Chase Flint added 9 points to the total, along with bringing down 9 rebounds and dishing out 6 assists.
"We need to shoot better from the free throw line, we were 0-4 in the last two minutes of regulation," added Edelstein.
The next day, Jan. 21, the Golden Eagles hosted the Golden Eagles from the College of Southern Idaho. CSI is the reigning National Champions for the 2010-11 season and although undersized, USU Eastern came into the game undeterred making up for size with heart.
Even though USU Eastern only shot 28 percent from the field they only found themselves down by 6 going into the locker room, 39-33.
Both USU Eastern and CSI came out with the same tenacity in the second half and unfortunately USU Eastern didn't have enough to claw back into the game.
At the end of the game the scoreboard at the Golden Eagles wearing black and gold 85, while the Golden Eagles in white, blue and gold 75.
Edelstein said, "We gave ourselves chances to win the game, but couldn't finish. I keep saying we need to give ourselves a chance to win and make plays down the stretch."
Flint led the team with 20 points and 8 assists. Walters added 12 points while bringing down 12 rebounds. Including Walters and Flint, USU Eastern finished with five players with double-digits in the scoring category.
After two heartbreaking loses on their home court, the USU Eastern Golden Eagles headed across the Uintah Basin to pay a visit to the Colorado Northwestern Community College Spartans in Rangley, Colo. Whether it was the pent up frustration after the four-tough loses or it was just a good shooting night, the Golden Eagles went to play and they played well. The team shot 79 percent from the field in the first half and shot 54 percent from behind the arc.
At half time USU Eastern went into the locker room, more than doubling up CNCC, 56-23. The scoring continued for the Golden Eagles in the second half as shots kept falling into the basket. USU Eastern only missed 18 shots throughout the whole game, hitting 42-60 from the field. At the end of the game USU Eastern had broken the 100 mark, ending the game 107-62.
The Golden Eagles were led in their scoring parade by Travon Langston, coming off the bench. Langston had 24 points and 5 rebounds. Flint brought down 9 rebounds along with 14 points.
Edelstein remarked, "It began with the opening tip, we guarded well and 5 minutes into the game, we were up 20 points."
This weekend the USU Eastern Golden Eagles will host instate teams: Snow College and SLCC in the BDAC. SLCC will be the first of this weekend's two games on Feb. 3, tip-off will be at 7:30 p.m. Snow visits the following day, Feb. 4, tip-off will be at 5 p.m.
Edelstein said, "We need to play with the confidence that we played with against CNCC, make sure that we need to compete defensively and finish down the stretch."