Meet Clarissa Perez: Los Angeles to Price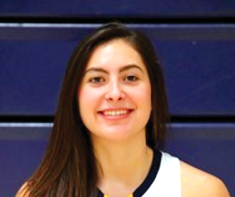 This archived article was written by: Ayanna Ford
Say hello to USU Eastern's women's basketball starting point guard Clarissa Perez, born June 16, 1997 in Los Angeles, Cali. Perez started playing basketball at 5, her parents enrolled her on a coed recreational team. There she discovered her love for basketball and it only continued to grow from there.
When Perez is on the court, she acts a general of the floor, making sure everyone is in their set places on the court, calling out plays, and making sure the team executes them. This task is not easy, it consists of a lot of pressure. Perez said, "You have to perform in order to get performance from your team,"
Perez is the second highest scorer on the women's team with an average of 12.2 points per game. She leads the team in assists, averaging 4.3 per game. Making a huge contribution to the team each game, Perez spends countless amounts of hours practicing and working out outside of practice each week to get these results.
"I grew up being taught that there's always somebody out there working harder than you. Also team practice is for team stuff, not individual development. I fell in love with getting better as a person," Perez said.
She enjoys the process of learning and being able to learn new things about basketball. Kobe Bryant inspires her the most because she used to watch him when she was little and her city loved him. Especially when he won three championships in a row her city was hyped up.
Coming to Utah, Perez made some adjustments on and off the court. On the court, she adjusted to the fast pace of the game. Compared to high school, college basketball is faster and the ball is pushed up and down the floor much quicker.
Off the court, Perez had to adjust to living on her own. Back home she didn't really have chores. Her main responsibilities were to perform well in school and perform well on the court. So making sure her room stays clean and just keeping up with regular housekeeping duties are difficult.
Perez's dream is to play division one basketball and if she has a chance of going professional overseas, she'll definitely go for the ride. She sees herself with a degree in chemistry and a contract to play overseas five years from now. If not, she wants to go to the FBI Academy or coach basketball for a high school team.